Disclosure: Links on our website may be to our affiliates. It doesn't cost you anything extra and you'll be helping to support Lightroom Guy dot com.
Hard Drives for Libraries and Backing Up

For modest sized Lightroom Libraries and anyone on a budget, the Seagate series of Backup Plus hard drives work on both Mac and PC. They've been super reliable for all my clients and it's been my experience that Seagate is very responsible when it comes to warranty replacement. And they come in colors, which help to differentiate your library hard drive from your backup hard drive. This link will take you to the Amazon page where you can choose from 1T, 2T, or 4T drives. I don't recommend the 4T Fast Drive, it is not as reliable.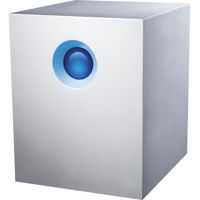 World traveling journalist or just putting together an extended family archive? This is the LaCie 5big available at Adorama. The Thunderbolt 2 external hard drive enclosure sports 5 – 8T, 7200RPM hard drives for 40TB of storage. This is THE hard drive to own if  you're a volume shooter or have moved up to the big boys, like medium format cameras or the current line of Nikons, Canons and Sonys and can't afford to lose a single photo. I have a couple clients using these puppies and they love them because they're super quiet and super reliable, especially when using a RAID 5 configuration. (If any one of the five hard drives fail, no data is lost!)
For backing up to the cloud (off-site), the service/software we recommend to our Lightroom Guy clients is Backblaze. It's a great "set it and forget it" backup platform that's robust enough to meet most user's needs while being dead simple to use. We've tested quite a few cloud storage options and, compared to other platforms, you'll see why we recommend Backblaze. They also have lots of great information on their blog, including longevity and reliability statistics of hard drives based on their own experience with different manufacturers and models.